Looking to build your property portfolio? Fantastic!
You aren't the only one, but you will be ahead of most of the Australian population, and the portfolio you build now will hold you in good stead in future.
What percentage of the Australian population own an investment property?
It's an elite group of Australians that have actually started to move towards financial freedom, financial security and the independence that comes with owning rental properties. We call them elite because it's only 7.9% of the Australian population who own at least one investment property*. Putting it another way 7.9% of the Australian population is providing over 30% of the Australian population with a rental property to call home.
How many Australians own more than one investment property? The pie graph below clearly shows that of property investors, the vast majority own just a single investment property.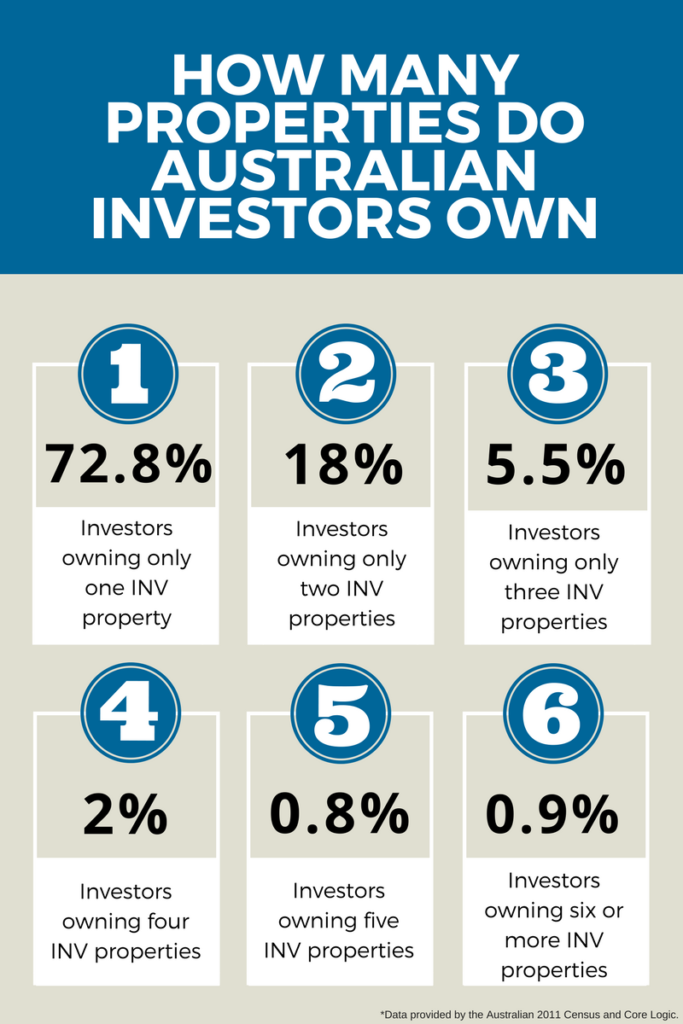 The graph above clearly outlines how many properties Australian investors own and with only 0.9% owning six or more investment properties it's 680 people out of every million.
Building a property portfolio takes time, years in fact. It also takes a team of professionals to ensure you're getting the right advice and moving towards financial freedom, financial security, and the independence to have the lifestyle you ultimately decide to enjoy.
For many investors, property is their retirement plan. As with any goal building a property portfolio and obtaining financial freedom starts with taking that first step.
If you're looking at expanding your property portfolio it's clear that you will need professional advice. Getting that advice right for your investment portfolio journey is critical.
So if you are thinking of working with us, you need to meet the following criteria:
You must have funds or equity available for a property purchase within the next 6 months
We require our clients to have established professional careers, funds available, and the mindset required to purchase property an investment portfolio over numerous years.
Your are looking to prepare for your future through multiple investment properties
Our loan structuring strategies and strategic alliances have enabled our clients to purchase on average a new investment properties every two years.
We only work with people who have the desire to achieve financial freedom, financial security, and the independence to have the lifestyle they decide to enjoy.
You recognise that you need highly qualified professional advice
Whether it's because you're too busy with your own life and career, or because you'd prefer to leave the details up to the experts, you recognise that you need expert advice to get the best loan structure for your circumstances. Our loan structuring strategies are focused on providing you with flexibility to increase your investment portfolio at your own pace, whether that is quickly or spaced out over more than a decade.
One of the key differences you will find is that we will help you to understand the whole process, answer any 'dumb' questions (there's no such thing) and ensure that you are comfortable with the decisions made and the structure/s put in place. We may be the experts, but we don't treat you like an idiot. Your understanding of the whole process and the structure we're putting in place for you is crucial, and we'll walk you through it step by step.