If you thought Michael Jordan's foray into baseball all those years ago was a bizarre career twist, then you won't believe what he's doing now.
The NBA superstar has turned his hand to real estate, filming a series of short videos in an effort to sell his Illinois home that's been languishing on the market since 2012.
The nine-bedroom, 15-bathroom estate in Highland Park features a massive entertaining area, full gym, putting green and, of course, a full size basketball court.
And with Jordan's famous number 23 emblazoned on the wrought iron gates, there's no mistaking who this home belongs to.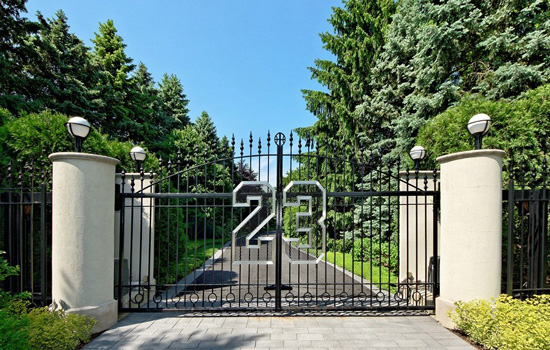 Known as a fearless competitor on the court, it seems Jordan has taken the same approach when it comes to selling his home – seemingly laying down the gauntlet to other luxury properties.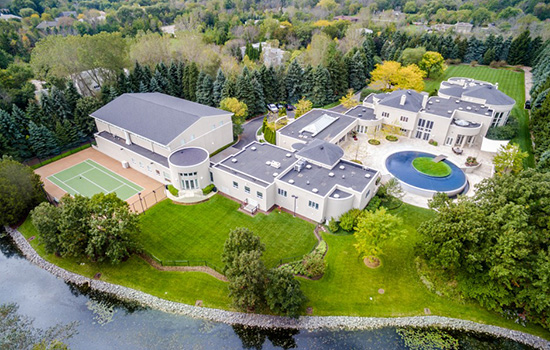 "Think you're big? I'm bigger. You say you're great at entertaining? Have you seen my pool pavilion? Putting greens? My game rooms? … You might have a basketball hoop, but I have a full-size regulation court designed and played on by the greatest of all time," Jordan says in the voiceover.
<iframe width="560″ height="315″ src="https://www.youtube.com/embed/GuVzQC7UpqQ&#8221; frameborder="0″ allowfullscreen></iframe>
The property is listed for US$14,855,000, a far cry from the original listing price of $29 million in 2012.
The home comes with some impressive history with the listing boasting: "If these walls could talk, the stories they would tell would be incredible. Hands of poker were played late into the night in the card room, while Jordan and friends smoked his favorite cigars from his humidor.
"He and his family watched movies on his huge video screen that descends from the ceiling, or swam in the infinity pool, with its central platform like a ball swishing into the net. The "Breakfast Club," a core group of talented Bulls players, worked out in Jordan's fitness center, and strategized on future games over breakfasts made by his private chef. "
The man behind the new sales strategy – luxury real estate agent Kofi Nartey – says the word is out that Jordan is serious about selling.
"Our website crashed for a few hours … due to the number of hits," Nartey told realtor.com.
"The buyers for a home like this aren't buying it to be in the neighborhood," he explains. "They're buying it because they want to own a piece of history."
This articles was first featured on RealEstate.com
Leave a Comments